Doctors & Staff
Meet the experienced and friendly doctors and staff who make Torrington Vision Source the leading provider of vision care products and services in Torrington.
---
Grant W. Jones, O.D.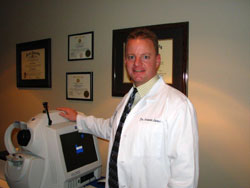 Dr. Grant Jones is a Torrington native, graduated from THS, and received his Bachelor of Science degree in Psychology at the University of Wyoming in 1993 and his Doctor of Optometry degree in 1997 from Pacific University College of Optometry in Forest Grove, OR. His externship was done with the University of Utah Moran Eye Center and the Salt Lake City Veteran's Hospital.
He enjoys the primary care nature of rural optometry, meaning that most patients during any day offer very different challenges of care from each other. He is proud of the very latest technology that Torrington Vision Source offers patients in our area.
He is a past president of the Torrington Rotary Club, Torrington Chamber of Commerce, and the Wyoming Optometric Association. He currently serves as co-director of the Northern Rockies Optometric Conference held each July in Cody, WY.
He is married to Dr. Lynda Jones and they have three grown children, Jackson, Mattilyn and Marcus. He enjoys spending time with his family and being involved with his kids' activities. Away from work, his recreational interests include boating, water and snow skiing, golf, and broadcasting high school sports for the local radio station.
---
Lynda L. Jones, O.D.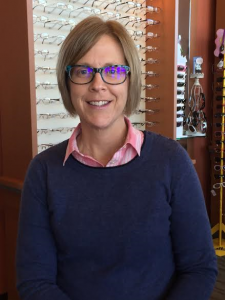 Dr. Lynda Jones spent her childhood in Vermillion, SD, and received her Bachelor of Arts degree in chemistry at Augustana College in Sioux Falls, South Dakota in 1994 and her Doctor of Optometry degree in 1998 from Pacific University College of Optometry. Her externships were done with Omni Eye Services in Chattanooga, Tennessee and the private office of Dr. Dietz-Pillen in Bellevue, NE.
Her first rotation was tertiary care eye disease referral, and her second rotation trained her in general family eye care, especially in children's vision. Making sure children's eyes are "ready to learn" began being important to her in school and continued into private practice.
Her current interests include nutrition and vision, and she is a member of the Ocular Wellness & Nutrition Society, a group of eye care practitioners aimed at optimal health and disease prevention of the body along with the eyes. Dr. Lynda is a past president of the Wyoming Optometric Association.
She is married to Dr. Grant Jones and they have three children, Jackson, Mattilyn and Marcus. She is an accomplished musician, avid reader, enjoys golfing, traveling, and following any activity her children are participating in.
---
Leatha R.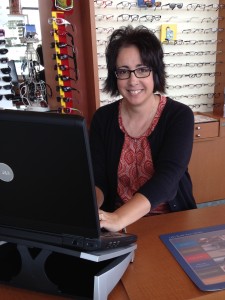 Leatha was born and raised in Goshen County, graduating from Southeast High School.
Her background in cosmetology was a perfect foundation for her role as an optician. She is trained in how to best compliment skin tone and face shape in selecting the best eyewear for the patient. Leatha listens closely to people's needs and is very detail-oriented. She has enjoyed the technical training she has received in adjusting and repairing frames, and has embraced traveling to state meetings to continue learning outside of the work place.
She enjoys photography and spending time with her husband and three children. Leatha has been with us since 2008 and is looking forward to continuing to serve our community in the future.
---
Kristen M.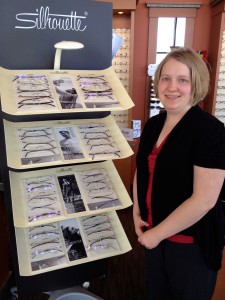 Kristen was born and raised in the Torrington area, graduating from THS.
She says she struggles to find more interesting work than what she does here at Torrington Vision Source. Kristen has been working for us since she was in middle school, though our youngest employee, she can be boasted as our most seasoned!
Kristen and her hunky husband, Seth, have a beautiful daughter and son. She likes spending time with her dogs, Kate, Oakley and Smalls, and the other animals on their "funny farm." She enjoys spending as much time as possible with her two children doing anything and everything they enjoy, including riding horses and playing in the mud with their mud truck.
Kristen holds the record by far for having the most eyewear of all staff! You will rarely see her in the same frame on your visits to the clinic. She loves her glasses and wants the same for you. Ask for Kristen and she will be happy to spruce up your eyewear.
---
Leisha O.
Leisha grew up in Goshen County graduating from Torrington High School. She received an Associates degree in Business from Eastern Wyoming College. Vandel Drug, Pamida, Bullock Electric, Tri-County and Platte Valley Bank, USDA – NRCS and FSA, and North Platte Physical Therapy are some of the many jobs she has worked in the area prior to joining Torrington Vision Source as an optician.
Leisha is married to Casey who is employed with Union Pacific Railroad. They have two children, a daughter Lauren who is attending Eastern Wyoming College in Nursing, and a son Branton who received his Business degree from the University of Wyoming and is currently in dental school at the University of Iowa.
She enjoys spending time with her family including her dogs Oakley, Ginger, Buddy and Sophie. She is excited to join the optical field and is learning a lot. Her goal is to become proficient in helping the community feel comfortable in their glasses and helping with their vision needs.
---
Tiana H.
Tiana grew up in a small town in southeastern Montana. She graduated from Eastern Wyoming College in 2018 with her Cosmetology license.
After a few years of living in North Dakota she moved back to Torrington to be with her now-husband, Brice. Brice farms with his family in Lingle. The two have a beautiful family together which includes three dogs: Izzy, Koda, and Piper.
Tiana has been a part of the Torrington Vision Source family for two years now and has enjoyed getting to know all of the nice people in Goshen County and looks forward to her future here.
---